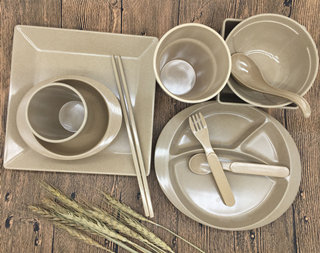 GoGradable's Offers Natural Fiber Food Containers
GoGradable Food Containers are reusable, recyclable food containers made from discarded rice husk. They're chip and crack resistant, and they're designed to last years in both cafe and home environments. By using rice husk rich material, we found a much better sustainable way to handle the by-product of rice production. All of these make our products the most Eco-friendly food containers. 
Our mission is to provide an earth-friendly & people-friendly alternative to disposable & household products.
Millions of tons of carbon emissions are emitted annually from the rice-fields around the world mainly due to the open-burning activities by the paddy farmers during the post-harvesting season. Our products are made of discarded rice husk. It's environmentally friendly due to lower carbon footprints and it's also compostable naturally, making it from the earth and ultimately giving back to the earth. It separates us from those non-renewable resources. It's chip and crack resistant, and it's designed to last for years in both cafe and home environments. By using much less amount of plastic material, it makes them most sustainable food containers.
Going green does not mean you have to compromise on quality or performance.
Beautiful elegant and all-natural! Our products are made with natural rice husk fibers. Instead of agricultural waste, we repurposed to create gorgeous reusable tableware. A great alternative to porcelain or ceramic and husk products last for years of normal use. They contain no petroleum and are microwave-safe.
Shop Now